Fantasy novel, my first novel. PREVIEW!
Viewing thread in Creative Chat
AngelCnder (#5401)
Apprentice Philosopher
Member
Total Posts: 5
Hey all, I written my first novel tho it still being corrected. Those who would like to read my book, the preview wise can read it here:
Cyngel's Dream World:The Dream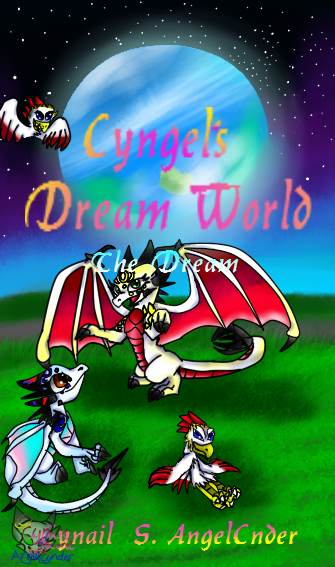 Those who want to know about it, and check it out. It haves a description, but I'll even share the description here as well.
Everything was okay at first for Angel and her friends, until the unknown darkness aurora started showing up recently upon her world. Will she and her friends stop this strange occur? And will she ever find out that new awaken discovery side of her, that so happens to come from the unknown darkness effect? And will Angel's friends also be able to save Angel from Kawcaw's evil wings, and his evil plans? Join on the journey to find out! Support my first novel, and help me publish it by tipping me on Ko-fi! https://ko-fi.com/angelcnder
Also if you are on wattpad feel free to follow me on there as well, currently writing a new book about a girl, who can't escape from her dream.
---
5 months ago on December 02, 2018 01:32
heyitsmemelissa (#3082)
Master Merchant
Member
Total Posts: 60
Awesome! I'll go check it out.
---
5 months ago on December 04, 2018 06:47
AngelCnder (#5401)
Apprentice Philosopher
Member
Total Posts: 5
Omg awesome! Please let me know what you think, whenever you do read it! :D
@heyitsmemelissa (#3082)
( I don't know how this works on how to reply. XD )
This post was edited at December 05, 2018 15:46
---
5 months ago on December 05, 2018 15:45
heyitsmemelissa (#3082)
Master Merchant
Member
Total Posts: 60
Hello. I am sorry I must have missed the post.
I thought the preview was very exciting. I am by no means a writing expert or grammer expert, but I really like the preview I read. I am not great at grammer but I did notice one error when he left the bridge it says Mean while instead of meanwhile, but again for the third time XD I am not that great at grammer. I think that you made it easy to have emotions for the characters. I got exciting seeing my friend Tropical and you made it easy to read words I most likely wouldn't have been able to pronounce such as "Tiazbuity." Overall I really liked the preview and I think that is awesome that you are writing a book!
---
5 months ago on December 14, 2018 08:29
PepperMint (#1911)
Practitioner Adventurer
Member
Total Posts: 67
Finally got around to reading the piece, after seeing this post pop up over and over again, and I enjoyed myself while I did so! I took a look at (and read through) the first part of the story, 'Prelude - Welcome To Cyngel's Dream World'.
If you're interested, here's some constructive critisism (If not, feel free to ignore it completely).
The story, as of that first portion, seemed to be travelling at a relaxing pace. Events were happening in a natural way, the conflict was brought about and resolved in the middle portion, my only grievance is that the end doens't feel quite like a predlude, but rather a sudden end to a paragraph. I think if you had left off the beginning a couple paragraphs earlier, at the part where Angel had finally made it to the docks to meet their friend, it would have felt like a more natural ending. (I hope that makes sense).
The main character seems to function in a normal, emotional way, which is really good! I find myself sometimes over exaggerating character's emotions to the point where it's all unrealistic... and that's not fun for anyone. Watching Angel go from peacefully walking through the forest, lost in their own thoughts, to getting increasingly annoyed at Kawcaw (which progressed in a nice fashion, but could have been a little slower? I guess it depends on your character; is Angel quick to fight?) was very engaging.
I have to admit, the best part of your story was having the same tense throughout the entire thing. That's a great step to becoming an awesome author :)
---
5 months ago on December 15, 2018 17:21